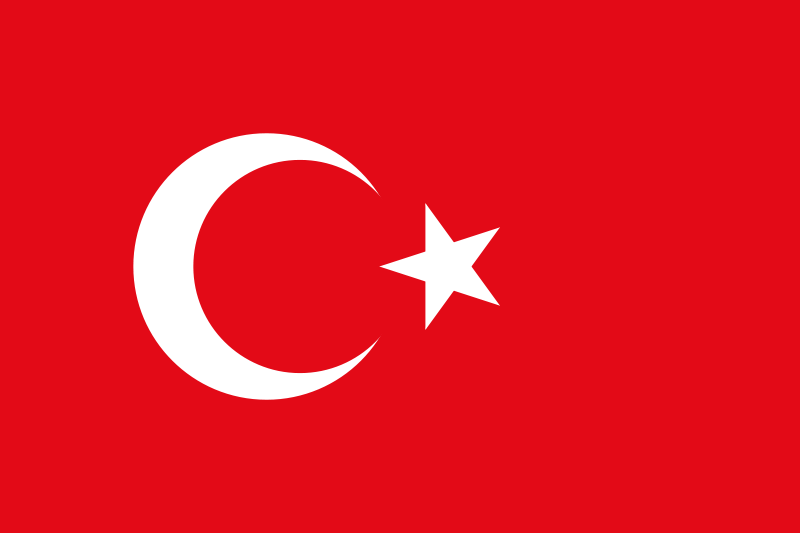 A treasure of history, a melting pot of civilizations and cultures.

The variety and beauty of its landscape and climate attracts tourists to its beaches, mountains, plains and valleys.

A dynamic nation of 72 million people with average age of 28
Committed to democracy and pluralism
A multi-party parliamentary democracy since 1946.

A secular democracy among more than 50 republics with predominantly Moslem population.
A free market economy
Free and privately-owned media, with 16 nation-wide private TV Networks, broadcasting through two Turkish communication satellites.

A member of NATO since 1952, Turkey is a part of the EU Customs Union since 1996, a candidate country to the EU since 1999 that started accession negotiations in October 2005.
Strategically placed
A physical and culturel bridge between Europe and Asia, in the heart of Eurasia, bordering 12 nations and four seas.

An outlet for the Black Sea basin countries to warm seas through the Turkish Straits.

A significant contributor to the development of the newly independent states of Central Asia and the Caucasus.

A prospective energy terminal of export of Caspian oil and natural gas.
A regional leader
Contributor to UN peacekeeping operations world-wide.
Initiator of the Black Sea Economic Co-operation region which groups 11 nations from the Balkans to the Caucasus.
Supporter of the Southeast European Countries Cooperation Process and initiator of the Multinational Peace Force Southeastern Europe; participant in the Kosova International Security Force and in Afghanistan and the Lebanon.

Supporter of the Middle East Peace Process and the only regional country which participates in the Temporary International Presence in Hebron (TIPH) upon the request of both the Palestinian and Israeli sides.
An economic power
A modern telecommunication and transportation network.

17th largest and 4th fastest growing economy in the world.

4th biggest donor country in the world with respect its GNP.

Donor of $3.5 billion in economic and technical assistance including credits and $500 million in humanitarian aid to several countries.

Russia alone, the investments of Turkish private entreprises amount to $10 billion.

With an average annual growth rate of 5%, the fastest growing country in the Mediterranean.

Exports to 155 countries, ranging from cable for the Channel Tunnel to cars to China.

Europe's largest supplier of textiles and apparel.

The only F-16 fighter plane factory outside the US.

A regional center for international companies such as Coca-Cola, Chase Manhattan, Philips and Siemens.
A land of opportunity
Privatization program including state enterprises active in airlines, banking, telecommunications and petroleum.

Privatization and its $4.5 billion per year energy investment program offering important opportunities for foreign investors.

One of the 10 big emerging markets.
The Southeastern Anatolia Project (GAP) for hydroelectric power generation and irrigation creating vast investment oppourtunities in agroindustries.
The Cradle of the Ottoman Turks


In front of the community park containing the shrine to Ertughrul Gazi in Sögüt, near the City of Bilecik, there stands one of those outsized flagpoles that are becoming such a conspicuous feature of the Turkish landscape.

However, here more than in most other places there's an ample justification for such nationalist posturing since it was here perhaps more even than in Bursa that the seeds of the Ottoman Empire were originally sown. Because the Conquest of Istanbul took place in 1453 A.D. it's easy for people to run away with the idea that the Ottomans came into their own more or less at the same time as the Tudors in the UK. Easy, but wrong, because in fact Ertughrul Gazi, the father of Osman Gazi who is usually thought of as the first of the Ottoman sultans, was actually born in 1188 A.D., at a time when large parts of what is now Turkey were still firmly under Selçuk sway.

Ertughrul's background is somewhat uncertain, although his birthplace is often given as Ahlat on the northern shore of Lake Van, he probably came from what is now Turkmenistan where he's honored by a mosque in his name in the capital, Ashgabat. An Oghuz Turk, he was leader of the Kayi tribe, which soon became involved in battling the Byzantines alongside the more powerful Selçuk Turks. For his efforts Ertughrul was rewarded with land near Ankara, although he later succeeded in seizing Sögüt (Willow), which is sometimes described as the first Ottoman capital.

Ertughrul's tomb stands to the left of the road as you come in by bus from Bilecik. Originally it would have been open to the skies but later a protective shrine was added, then rebuilt in its current form in 1886 A.D. during the reign of Sultan Abdülhamid II.

Today his grave is surrounded by soil samples brought here from all over the Turkic world in his honor. In the grounds outside can be seen the graves of Ertughrul's wife, Halime Hatun, and of his second son, Savci Bey, as well as a marker showing where Osman Gazi was originally buried before his body was transferred to Bursa when it succeeded Sögüt as the Ottoman capital.

At the back of the graveyard stands a cookhouse with, right beside it, a vast arena. Both come into their own over the second weekend of September when Ertughrul Gazi is commemorated with a festival that builds on a celebratory pilav günü (traditional rice day) dating back more than 700 years. Thousands of people show up annually to take part in the feasting and fun.

It might be tempting to take a quick look at the tomb, then hop back on the bus to Bilecik. Tempting but mistaken, since if you stroll downhill to the town center you'll soon discover modern Sögüt, an unexpectedly pretty little town vaguely reminiscent of Iznik.

The first thing you'll come to is a very attractive compound containing a high school, orphanage and mosque with twin minarets all dating back to the reign of Sultan Abdülhamid Second. Once to reach the much older Çelebi Sultan Mehmet Cami built between 1414 A.D. and 1420 A.D., but extensively restored by the enthusiastic Abdülhamid. In front of it there's a bust commemorating Ertugrul Gazi as well as a beautiful fountain decorated with Kütahya tiles and called the Kaymakam Çesmesi

(Governor's Fountain) after Kaymakam Sait Bey who had it placed there in 1919 A.D.

Nearby you'll find the Ethnographic Museum housed inside a lovely wooden mansion that started life as a clinic but had to be completely rebuilt after a fire in 1990 A.D. Inside it contains a fine collection of traditional costumes and lovely knitted purses, while the grounds host a few tombstones dating back to the time when Sögüt was the Roman Thebasion (Sebasiyon). Finally, take a quick look at the statue of Atatürk just where the bus back to Bilecik stops. It's surrounded by sculpted panels setting out the main events in Ottoman history.

The best base from which to visit Sögüt is probably Bilecik, a little-noticed town in Western Anatolia on the main road from Eskisehir to Adapazari (Sakarya). As you come into town you can hardly avoid noticing on the right a deep gorge whose flanks are dotted with the shattered remnants of minarets. During the Turkish War of Independence (1919-1922 A.D.), Bilecik, like Sögüt, was the scene of fierce fighting between Greeks and Turks, and these broken buildings stand as silent reminders.

A road winds down through the valley to the site of the shrine of Seyh Edebali (1206-1326 A.D.), spiritual advisor to Ertughrul Gazi and father-in-law of Osman Gazi. The shrine sits in a glorious location with fine views on both sides; look out in particular for the ruins of an old caravanserai now covered by a protective roof on the far side of the valley. At the foot of the steps leading up to the shrine is the impressive Orhangazi Cami, a mosque dating back to 1392 A.D. but with twin minarets added in 1905 A.D.

The hamam that once formed part of the complex has been turned into a souvenir shop where you can buy replicas of the old green Ottoman flag decorated with three white crescents. A nomadic- style tent has been set up in the grounds to serve refreshments to weary pilgrims who can imagine themselves transported back to the days of Ertughrul and Osman as they sip their tea.

Back on the lip of the valley you might want to pause to inspect the fine Belediye Sarayi (local municipality building). In the small park behind it the clock tower was erected in the reign of --you've guessed it --Sultan Abdülhamid II. Across the road a monument incorporates the old and new Turkish flags as well as Sheikh Edebali's uplifting words "Insani Yasat Ki, Devlet Yasasin (Let man flourish and the State will also flourish)."

Modern Bilecik has nothing to detain a visitor bar a cluster of reasonable hotels. However, it's also the best base for a visit to nearby Osmaneli, another of the many mini-Safranbolus of old Ottoman houses that dot this corner of Turkey yet pull in far fewer visitors. Long known as Lefke, Osmaneli merits a footnote in postal history since Turkey's first airmail letter was carried by plane from here to City of Bilecik in 1914 A.D. However, it's mainly interesting as a place to come to admire old Ottoman architecture without distracting crowds.

At the heart of town stands the Ulu Camii, a mosque commissioned by Rüstem Pasa, the grand vizier and son-in-law of Sultan Süleyman the Magnificent perhaps best known for the lovely little mosque he paid for in Istanbul's Tahtakale district.

It was designed by Yüzgech Mehmet Pasa, a pupil of the great Sinan's, and is currently undergoing restoration like many others in Turkey now. Facing it, the imposing two-storied Hükümet Konagi that once housed the local government is now slated to become a boutique hotel. Mehmet Pasa, a pupil of the great Sinan's, and is currently undergoing
restoration like many others in Turkey now. Facing it, the imposing two-storied Hükümet Konagi that once housed the local government is now slated to become a boutique hotel.

The pleasure of a visit to Osmaneli mainly lies in wandering the streets admiring the fine Ottoman konaks (mansions), many of them in a predictably poor state of repair but some making a strong comeback (look out, for example, for the lovely houses surrounding Balaban Meydani). However, you should certainly track down the remains of what was once the enormous Hagios Georgios (St. George) Greek Orthodox Church and the much less conspicuous shrine to Bayrakli Dede, a local evliya or holy man in whose life story colorful fables stand in for lack of actual fact. His tomb is draped with modern Turkish flags, hence its name.