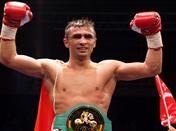 Hard-hitting welterweight contender Selcuk Aydin arrived at training camp in Florida last week to prepare for his first world title fight. On June 5th "Mini-Tyson" will face former WBA champion Luis Collazo for the WBC Silver Championship in Istanbul, Turkey.
For his preparation Aydin chose to work with Ismael Salas, trainer of WBA featherweight champion Yuriorkis Gamboa, and strength and conditioning coach Jorge Rojas.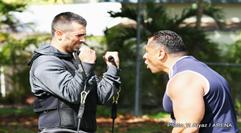 "I am very happy to be in the USA and working with a great coach like Ismael Salas and his team", said Selcuk. "He is very experienced and an excellent coach. I think we are a good team as well. I am absolutely convinced that Collazo will have no chance when he faces me. I will become champion of the world."

Salas believes in his new fighter as well: "Selcuk is a strong fighter with a champion's mind. He's got the skills, the heart and the willpower to become world champion. He is working very hard already and he will be on the top of his game when he faces Collazo. Still it won't be an easy fight. Of course, Collazo is very dangerous, very tough and very strong. But Selcuk is stronger. If we focus on our work and make no mistakes we will win this fight."
Selcuk Aydin still fighting word world title on June 5th in Istanbul