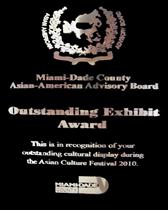 The Asian American Advisory Board congratulates the Iranian American community for being the recipient of the Most Outstanding Cultural Exhibition at the 20th Annual Asian Cultural Festival held during the weekend of March 6 & 7, 2010 at the Food & Spice Park in Homestead, Florida.
The Iranian cultural exhibition tent was beautifully decorated with many cultural artifacts and displays, including multi-media presentations of Perespolis and the ancient civilization of Iran.
Throughout the Festival, there were musicians playing two unique Iranian musical instruments, the Sehtar and the Santor. Additionally, the tent displayed a beautiful Haft-Sin, which is a traditional spread featuring decorated items for Nowruz, the Iranian New Year. Many Iranian American organizers inside the tent were dressed in traditional Iranian folkloric clothes. There was also a group of Iranian dancers from Washington, D.C., who performed traditional Iranian dances on the main stage, which pleased the crowd in attendance.
This was the first time the Iranian American community collaborated with the Asian Cultural Festival of South Florida.