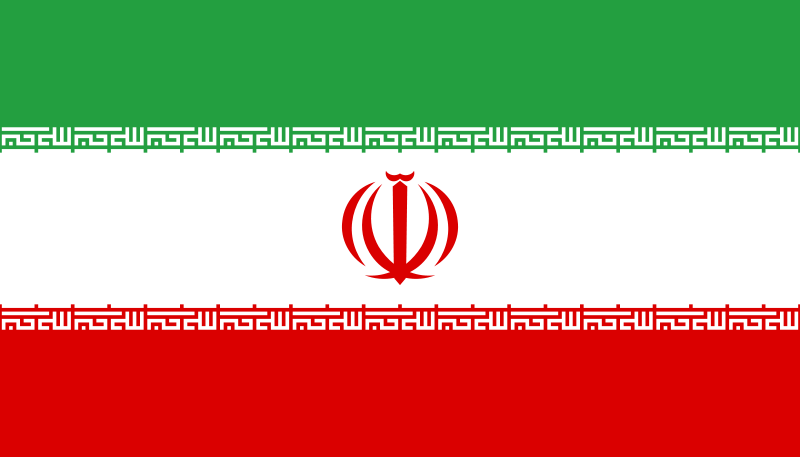 Name: Islamic Republic of Iran
Flag Description: Three equal horizontal bands of green (top) white, and red; the national emblem (a stylized representation of the word Allah) in red is centered in the white band: ALLAHO AKBAR (God is Great) in white Arabic script is repeated 11 times along the bottom edge of the green band and 11 times along the top edge of the red band, totally 22 times to show 22nd of Bahman, the day of victory of the Islamic Revolution.

Area:
Total area: 1.648 million sq. km
Land area: 1.636 million sq. km
Land boundaries:
Afghanistan 936 km, Armenia 35 km,
Azerbaijan-proper 432 km,
Azerbaijan-Nakhichevan enclave 179 km,
Iraq 1,458 km,
Pakistan 909 km,
Turkey 499 km,
Turkmenistan 992 km.
Iran also borders the Caspian Sea (740 km)
Coastline: 2,440 km
Total: 5,440 km
Maritime claims
Contiguous zone: 24 nm
Continental shelf: Natural prolongation
Exclusive economic zone: Bilateral agreements or median lines in the Persian Gulf Territorial sea: 12 nm
Climate
Iran's climate is mostly arid or semiarid, subtropical along the Caspian coast
Terrain: Rugged, mountainous rim; high, central basin with deserts,
Mountains: Small, discontinuous plains along both coasts
Lowest point: Caspian Sea - 28 m
Highest point: Qolleh-ye Damavand 5,671 m
Natural resources: Petroleum, natural gas, coal, chromium, copper, iron ore, lead, manganese, zinc, sulfur
Land use
Arable land: 8 percent
Permanent crops: 0 percent
Meadows and pastures: 27 percent
Forest and woodland: 11 percent
Other: 54 percent
Irrigated land: 57,500 sq. km (1989 est.)
Environment
International agreements: Party to Endangered Species, Hazardous Wastes, Nuclear Test Ban, Ozone Layer Protection, Wetlands; Biodiversity, Climate Change, Decertification, Environmental Modification, Law of the Sea, Marine Life Conservation
People
Population: 60.1 million, including 36.8 million in urban areas and 23.3 million in rural areas (1996 estimate)
Population density: 38 persons per square kilometer (1998)
Active population: 17.3 million (1998 estimate)
Employed population: 15 million (1998 estimate)
Age structure
0-14 years: 45 percent (male 15,166,131; female 14,289,283)
15-64 years: 52 percent (male 17,326,388; female 16,731,470)
65 years and over: 3 percent (male 1,327,718; female 1,253,274) (July 1996 est.)
Population growth rate: 2.21 percent (1996 est.)
Birth rate: 19.5 births/1,000 population (1997 est.)
Death rate: 6.5 deaths/1,000 population (1997 est.)
Refugees and Immigrants: 1,963,780 (1999)
Sex ratio
At birth: 1.05 male(s)/female
Under 15 years: 1.06 male(s)/ female
15-64 years: 1.104 male(s)/ female
All ages: 1.05 male(s)/ female (1996 est.)
Infant mortality rate: 52.7 deaths/1,000 live births (1996 est.)
Health
Children mortality under 5 years rates (per 1000): 37.3 (1997)
Life expectancy: 69.5 (1997)
Doctors (per 100,000): 107.9 (1997)
Aids Rate (per 100,000): 0.30 (1997)
Religions
Shia Muslim 93 percent,
Sunni Muslim 6 percent,
Zoroastrian, Jewish and Christian 1 percent.
Languages: Persian
Literacy:
(6-14 years): 94.55 percent (Sept. 1997)
(15 and over):72.91 percent (Sept. 1997)
Urban areas: 96.88 percent
Rural areas: 91.37 percent
Male: 81.9 percent (nationwide) (1997)
Female: 67.0 percent (nationwide) (1997)
Government
Name of country : Islamic Republic of Iran (Jomhuriy-e Islamiy-e Iran)
Capital: Tehran
Administrative divisions:
28 provinces (ostanha, singular: ostan);
Ardebil, Azarbaijan-e Gharbi, Azarbaijan-e Sharqi,
Boushehr, Chahar Mahal va Bakhtiari, Fars, Golestan,
Gilan, Hamedan, Hormozgan,
Isfahan, Ilam, Kerman,
Kermanshahan, Khorassan, Khouzestan,
Kohkilouyeh va Buyer Ahmad, Kurdestan, Lorestan,
Markazi (Central), Mazandaran, Qazvin, Qom,
Semnan, Sistan va Balouchestan, Tehran, Yazd.
Independence: 1 April 1979 (Islamic Republic of Iran proclaimed)
National Holiday: Islamic Republic Day, 1 April (1979)
Constitution:
2-3 December 1979; revised 1989 to expand powers of the presidency and eliminate the premiership Parliament (Majlis-e Shora-ye-Islami) and the Council of Guardians of the Constitution. Under the provisions of the Constitution all legislations must first be approved by the Majlis and then be ratified by the Council of Guardians. They are signed into laws by the president. Two more legislative bodies were created in 1988 by (the late IRI leader) Imam Khomeini. They were the Expediency Discernment Council (EDC) and the Council of Policy Making for Reconstruction. Islamic Consultative Assembly (Majlis-e Shora-ye-Islami): Elections last held 18 February 2000
Judicial branch: Supreme Court
International organization participation:
CCC, CP, ECO, ESCAP,FAO, G-19, G-24, G-77, IAEA, IBRD,
ICAO, ICC, ICRM, IDA, IDB, IFAD, IFC, IFRCS, ILO, IMF,
IMO, Inmarsat, Intelsat,Interpol, IOC, IOM (observer),
ISO, ITU, NAM, OIC, OPEC, PCA, UN, UNCTAD, UNESCO, UNHCR,
UNIDO, UPU, WCL, WFTU, WHO, WIPO, WMO, WTO
Economy:
Average GDP Growth Rate: 3.8 percent (1995-1998)
GDP (current prices): 327,596 billion rials (1998)
Per Capita Income (current prices): 4,375 thousand rials (1998)
Gross National Savings /GNP: 26.1 percent (1998)
Net External Assets of the Banking System: 676 billion rials (Sep. 1999)
Banking System Facilities: 228,480 billion rials (Sep. 1999)
Liquidity (M2): 183,247 billion rials (Sep. 1999)
Trade Balance: 2,465 million dollars (Apr. - Sep. 1999)
Motor vehicles (cars) production: 206,000 set (1998)
Steel production: 6,000,000 ton (1998)
Oil export (barrel per day): 2,333,000 (1998)
Language: Modern Persian is the official language of Iran. An ancient literary language, Persian was written in the Pahlavi script before the Arab conquest in the 7th century. A new form written in the Arabic script developed during the 9th and 10th centuries; this is the basis of the Modern Persian language used today. As recently as 1950 there were several distinct dialects of spoken Persian, but due to the spread of public education and broadcast media, a standard spoken form, with minor regional accents, has evolved. Important languages of minority groups that have their own publications and broadcast programs include Azeri (a Turkic language of the Altaic family), Kurdish, Arabic, and Armenian.
Religion: Jafari Shiite of Islam has been the official religion of Iran since the 16th century. An estimated 93 percent of all Iranians follow Shia Islam, and nearly all are members of the Jafari group. Since Jafaries believe there are 12 legitimate successors, or imams, to Prophet Mohammad, they are often called Twelvers (Asna Ashari). The small remaining part of the population belongs to other Islamic denominations, primarily Sunni Islam. Iran also has small communities of Armenian and Assyrian Christians, Jews, and Zoroastrians.
Weather: Iran's varied landscape produces several different climates. On the northern edge of the country, the Caspian coastal plain, with an average elevation at or below sea level, remains humid all year. Winter temperatures rarely fall below freezing, and maximum summer temperatures rarely exceed 29 C (85 F). Annual precipitation averages 650 mm (26 in) in the eastern part of the plain (Mazandaran Province) and more than 1,900 mm (75 in) in the western part (Gilan Province).
At higher elevations to the west, settlements in the Zagros Mountain basins experience lower temperatures. These areas are subject to severe winters, with average daily temperatures below freezing, and warm summers, averaging 25 C (77 F) in the northwest and 33 C (91 F) in the central and southern Zagros. Annual precipitation, including snowfall, averages more than 280 mm (11 in) at higher elevations. Most precipitation falls between October and April.
The central plateau region also experiences regional variations. In Tehran, located at an elevation of 1,200 m (3,900 ft) on the northern edge of the plateau, the temperature averages 2 C (36 F) in January and 29 C (85 F) in July. The city receives an average of 230 mm (9 in) of precipitation annually. The arid basins of central and eastern Iran generally receive less than 200 mm (8 in) of precipitation per year. Yazd, for example, averages less than 70 mm (3 in) of precipitation. Its winters are cool, but temperatures almost never fall below freezing; summers are very hot, averaging 38 C (100 F) for most of July and August.
The coastal plains along the Persian Gulf and the Gulf of Oman in southern Iran have mild winters, with average January temperatures ranging from 7 C to 18 C (45 F to 64 F) in Khuzestan Province; average temperatures are even higher in Bandar-e 'Abbas on the Strait of Hormuz. Summers are very humid and hot, with temperatures exceeding 48 C (119 F) during July in the interior areas. Annual precipitation ranges from 145 mm to 355 mm (6 to 14 in) in this region.
People: The population of Iran was estimated at 65,865,302 in 2000. This figure is more than double the 1975 population of 33,379,000. Between 1956 and 1986 Iran's population grew at a rate of more than 3 percent per year. The growth rate began to decline in the mid-1980s after the government initiated a major population control program. By 2000 the growth rate had declined to 1 percent per year, with a birth rate of 20 per 1,000 persons and a death rate of 5 per 1,000. In 1998, 44 percent of the population was under the age of 15, 53 percent of the population being between 15 and 64, and only 4 percent 65 or older.
Overall population density in 2000 was 40 persons per sq km (104 per sq mi). Northern and western Iran are more densely populated than the arid eastern half of the country, where population density in the extensive desert regions is only 1 percent of the national average. In 1998, 61 percent of the population lived in urban areas. About 99 percent of rural Iranians resided in villages. Only 240,000 were nomads (people without permanent residences who migrate seasonally), a fraction of the 2 million nomads counted in 1966.
Tehran, the country's capital and largest city, serves as the main administrative, commercial, educational, financial, industrial, and publishing center. Iran's other major cities include Mashhad, a manufacturing and commercial center in the northeast and the site of the country's most important religious shrine; Esfahan, a manufacturing center for central Iran with several architecturally significant public buildings from the 17th and 18th centuries; Tabriz, the main industrial and commercial center of the northwest; Shiraz, a manufacturing center in the south near the ruins of the ancient Persian capital of Persepolis; and Ahvaz, the principal commercial and manufacturing center in the southwestern oil region.
Ethnic Groups: Iran's population is made up of numerous ethnic groups. Persians migrated to the region from Central Asia beginning in the 7th century BC and established the first Persian empire in 550 BC. They are the largest ethnic group, and include such groups as the Gilaki, who live in Gilan Province, and the Mazandarani, who live in Mazandaran Province. Accounting for about 60 percent of the total population, Persians live in cities throughout the country, as well as in the villages of central and eastern Iran. Two groups closely related to the Persians both ethnically and linguistically are the Kurds and the Lurs. The Kurds, who make up about 7 percent of the population, reside primarily in the Zagros Mountains near the borders with Iraq and Turkey. The Lurs account for 2 percent of the population; they inhabit the central Zagros region. Turkic tribes began migrating into northwestern Iran in the 11th century, gradually changing the ethnic composition of the region so that by the late 20th century East Azerbaijan Province was more than 90 percent Turkish. Since the early 1900s, Azeris (a Turkic group) have been migrating to most large cities in Iran, especially Tehran. Azeris and other Turkic peoples together account for about 25 percent of Iran's inhabitants. The remainder of the population comprises small communities of Arabs, Armenians, Assyrians, Baluchis, Georgians, Pashtuns, and others.